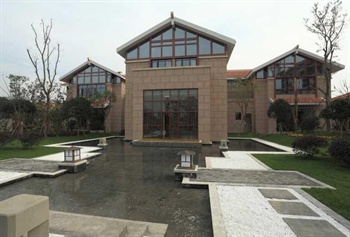 The Chengdu Xinjin Celebrity City Hotel (Xinjin Shanshui Haosheng Guoji Jiudian) is situated in Xinjin, known as Sichuan's Venice, which is famous for its rich water resources and tasty Amur catfish. The hotel is just 20 minutes by car from Chengdu New Convention and Exhibition Center and 30 minutes from downtown Chengdu. Attractions nearby include the beautiful Lihua Brook and a water park.
Diners may eat at one of the three on-site restaurants, namely, a theme restaurant featuring seafood and game as well as Sichuan and Cantonese cuisines, a Chinese restaurant with a-la-carte menu and a Western restaurant serving Chinese and Western buffet breakfast.
Business guests can choose from four meeting rooms.
Guests looking for a recharge can head to the gym or hit the tennis court or karaoke room with friends or colleagues. For those looking for a more laid-back option, the hotel sports a pool and spa.